As of today there are 3991 registered members. If you're not one of them, please Register and Join today. Then tell your friends and….
* Connect with Classmates and Friends through our FREE search
* Keep up on Class Reunions and Events
* Learn about NHHS today
* Contribute easily through our secure Pay Pal feature
Since we're an all-Volunteer group (three grads right now are doing all the work with our webmaster) WE NEED YOUR HELP!
Spread the word and help us grow!
---
---
---
---
---
---
---
---
---

Newest members to register on the Website:
Gary Bengler, class of 1967
Richard Cortazar, class of 1964
Hal Harkness, class of 1956
Teresa Flores, class of 1983
P.L. Smith, class of 1957
Add your name now!
---
Harold Knowles, a graduate of North Hollywood High School, class of 1941 passed away on December 19th, 2014 at the age of 92. Harold was a highly decorated Marine fighter pilot during WWII and Korean Wars. Harold did not want a funeral service but agreed to a celebration of life.
A tribute to Harold Knowles will be held at the Odyssey Restaurant located near Rinaldi and the 405 freeway on Thursday, February 19th, 2015. There will be speakers, bagpipes and a "Harold on Video" presentation. Cocktails are at 6:00 PM and dinner is at 7:00 PM with a choice of Prime Rib or Salmon for $30.00.
Harold belonged to a group of fliers called "Wings over Wendy's" who met for lunch on Thursday's. This is an Association of Naval Aviators and "Arnag" is in charge of reservations for this event. Please contact Arnag at 1(818)341-0517 to place your reservation. RSVP no later than February 2nd, 2015.
North Hollywood High Team First in LAUSD
to Win Cyber-Security Competition


A team from North Hollywood High School became the first Los Angeles Unified School District squad to win a national computer-security competition. Read more on North Hollywood Patch.

---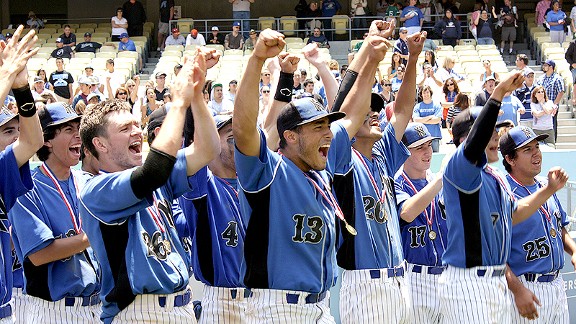 North Hollywood found a field of redemption at Dodger Stadium in the City Section Division II championship game against South Gate. Read more on ESPN-LA.

---

The North Hollywood Team won second place at the U.S Department of Energy National Science Bowl in Washington, DC on April 30, 2012. Photo by Dennis Brack (left to right: Dr William F. Brickman, Vivek Banejee,Rain Tsong,Daniel Bork,Kennedy Agwamaba, Chiyoung Kim, Coach Altair Maine).

---
Reunions!
Join 1948, 1953, 1973, 1978, 1979, 1984 and Esquires reunions... Don't miss out!
More reunions are listed here!
---

Someone found a class ring while cleaning the floor heater in an apartment on Camarillo St. It's from North Hollywood High, class of 1942, and the initials engraved are "NFD". If it's yours or you know who may have lost it, please contact Kathy Coss.
---
In Memory Of
We remember our classmates and invite you to do the same.
---
This is the official website of the North Hollywood High School Alumni Association. The site currently being operated under the name of Alumni Archive, Inc., and any other, are NOT in any way affiliated with the North Hollywood High School or the NHHS Alumni Association.
---
Then and Now
They were sweethearts in 1955...
What are they up to now?
Find out more about Carole Pabian and Dick Holmes.
---
Why should I join?
For 25 years, the North Hollywood High School Alumni Association has funded scholarships, aid programs and given other financial help to our alma mater. These funds all come from YOUR tax-deductible dues and donations.. The Online Dues are $14 for the year (thatís $12 for your dues plus $2 to handle Pay Pal and site administrative costs). You can also pay by regular mail, but we would much prefer you to use our Online payment method.
PLEASE JOIN today and PAY YOUR DUES.
---
Spread the word!

We are looking for more and more people to help bring this site to life. If you know a NHHS Alumni and they are not in the database, use the
Spread the word page
to let them know about it. It is only with your help that we will grow the database and the site!
Is this book on your summers reading list? It should be.
"Farewell to Manzanar" "[Jeanne Wakatsudi Houston] describes vividly life in the California concentration camp, Manznar.
"An extraordinary episode in American History." Library Journal
Herein, is another story, which recently came to our attention and we'd like to share with you. A story which took place right in our own NHHS backyard.
In 2006 after 62 years, Soichiro "pat" Hirami, and his brother "Aki" graduated from NHHS with honors.
The diploma project, in 2005, was the result of legislation sponsored by Democratic Assemblywoman Sally Lieber allowing school districts to bestow diplomas to students of all races interned by the government during World War II.
Attached herein, is correspondence between NHHS Alumni Treasurer Gail Coyle and Ann-Nora Hirami; Plymouth High School Social Studies teacher; and daughter of Soichiro "Pat" Hirami, plus several articles from various newspapers.
"History was revisited and made anew at NHHS"
"Your greatest gift will be to help educate others, by demonstrating lives free of intolerance and discrimination, by defending all Americans and not just ourselves in times of crisis, and by broadening our country's understanding of loyalty and patriotism." [Ann-Nora, Cynthia, Soichiro "Pat" and Akira Hirami]